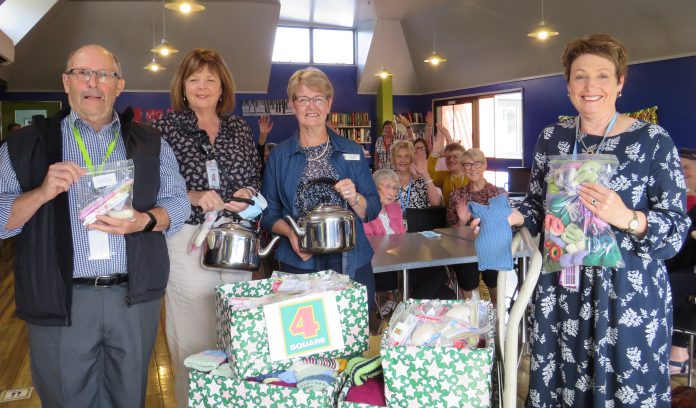 The volunteering efforts of Friends of Ashburton Hospital were recognised this week at a morning tea end of year celebration.
The event, provided by Ashburton Hospital, saw around 20 volunteers from Friends of Ashburton Hospital get together at the hospital for the morning tea treat; just under half its usual contingent.
Friends' volunteer coordinator Graham Haslemore said volunteers – which numbered around 48 – provided volunteer services Monday to Friday to Wards 1, 2, the acute admitting unit and Tuarangi Home.
They were a friendly face offering anything from warm morning tea beverages, a comforting chat, entertainment or just an extra pair of hands able to help patients out.
''We also provide some 300 sets of knitted products (such as) beanies, singlets and blankets for new born babies in the maternity wing,'' he said.
The knitted goods, created throughout the year by members of the group and other community knitters, – along with two teapots from members also involved with Inner Wheel – were presented to hospital staff at the morning tea, as well as a supply of toiletry packs sourced and made up by the Friends' volunteers specifically for patients in Wards 1 and 2.
''They are for those patients who, for whatever reason, find themselves admitted to hospital without such items. A lot of people end up in hospital with nothing, and they really appreciate it,'' Mr Haslemore said.
Each pack contains a set of toothpaste, toothbrush, comb, soap and shampoo.
The wool for knitted goods and items for the toiletry packs were made possible through the generous support of Advance Ashburton (wool funds), Netherby Four Square (Foodstuffs Community Trust South Island) and Acton International Market Ltd (toothbrushes).
The goods were accepted on behalf of the hospital by Jane Harnett (acute and inpatient services nurse manager) and Julie Dockrill (charge midwife and maternity manager).
The Friends of Ashburton Hospital was set up in 1976 at the request of then-hospital medical superintendent Dr Chapman and social worker Margaret Denham who recognised that while patient's were in hospital for medical treatment they were happier, more comfortable and less anxious if they had their non-medical needs met too, Mr Haslemore said.
The volunteers carry out a range of duties including companionship and conversation, morning tea runs, reading to patients, helping occupational therapists on Ward 2, rostering duties for religious ministers chapel services, library services, holiday decorations and treats, and at Tuarangi Home sing a longs and Bingo, exercise sessions and a men's coffee group.
''The function of the group was, and still is, to support nursing staff by providing physical, mental and emotional comfort and support for patients, their friends and whanau,'' Mr Haslemore said.
We take a load off the nurses and are another friendly face for patients and are alway looking for more volunteers, he said.
Volunteers, each work set days of the week, starting from the beginning of February through to around Christmas Eve.
They come from a many varied backgrounds and are only taken on after under going an interview process, referee check and police vetting.
They have monthly meetings and training sessions covering the likes of CPR, fire safety and infection control to get everyone together.