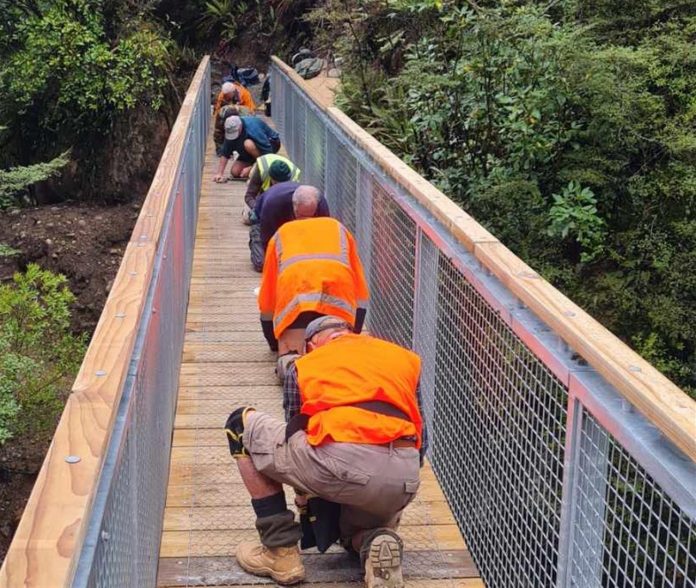 The Sharplin Falls pass has been closed on Mt Somers for over 10 years, since the earthquake, causing rockfall on to the gantry, making it unsafe to leave open.
The Mt Somers walkways society had previously attempted to get Department of conservation (DOC) to open the track, but it was deemed to be in a dangerous place, so the society decided they would have to fix it themselves.
The project was started around five years ago. Geotech reports and all necessary paperwork were put in place for DOC to approve the fix.
Charles Ross is the chairman of the Mt Somers walkway and chairman of the Working Group who was instrumental in making a new access walkway possible.
Charles described the whole process as quite gruelling, with lots of hard work involved. "It is a locally treasured destination; people have been amazing to contribute to the project. "Two people in particular have given $50,000 a piece in donations. " Funding agencies have helped immensely, and all the contractors involved have been very generous, doing the work at mates rates".
The project soon became a much bigger affair than previously anticipated, with an initial cost of $300,000 now being nearly doubled to complete.
Of course, there have been setbacks and further delays. Construction had to be halted on rainy days, but this also allowed them to monitor the water flow, for which culverts and swales have now been built in the appropriate places to compensate.
Such a huge operation required tremendous help from awhole host of areas. Special diggers dug the track and Fulton Hogan installed the bridges, lifting in four sections each with the use of a helicopter. Alister Reed has built a lot of the timber stairs and lookout decking. Mt Somers walkway members also pitched in, carting in alarge amount of shingle to gravel the once previously muddy track, with the use of power barrows.
It's about a kilometre to the falls and viewing platform. Two bridges have been constructed, along with a lot of steps to form the stairs up to the summit. The completed work will be stable and suitable for young and old people to cross.
They are at the stage now of finalising the producer statements to present to DOC. They will in turn, inspect the construction and once all the paperwork is complete the pass will be open again.
Once the pass is finally opened, there will be a blessing of Sharplin Falls Tahekerua by a representative from the Community Trust of Mid and South Canterbury and Tewera King of Arowhenua. The pass is expected to be open in the coming months. The only worry now is that the car park may not be large enough to host the many people wanting to check out the pass once its opened again.