Eighteen year old mates Olly Maw and Tim Boag have wholeheartedly taken to ploughing. It's their sport of choice. They were competing against each other at the recent Mid Canterbury Vintage Machinery Club match at Wakanui and reporter Toni Williams caught up with the pair.
Olly Maw only started competition ploughing this season.
But he is now the fifth generation of match ploughmen in his family; his grand dad Colin Maw, of Barrhill, has been giving him plenty of practice tips.
He had his first match at Methven earlier this month, and a few weeks later competed at Mid Canterbury Vintage Machinery Club's match at Wakanui.
Prior to competitions he said he had a spent few weeks practicing with his grand dad.
''Grand dad has always done it and was keen to get me out, but never had the tractor because it was always on the irrigator,'' Olly said.
Now the irrigator has been replaced by pivots and Olly has his grand dad's tractor to use.
It's a David Brown 885.
''It's the same plough that grand dad used to plough with actually. That's quite cool,'' he said.
At Methven, Olly said there were ''a few stones, but other than that it was pretty good conditions for ploughing, just a bit frosty but it burned off.''
His first cut at Wakanui went all right but he was quick to admit it could have been better.
''There's always room for improvement,'' he said.
Olly, studying Diploma in Ag at Lincoln University, has spent valuable time over the past few months with his grand dad who he describes as his mentor and coach, and picked up plenty of tips.
''There are heaps of things to adjust, your widths, your depths your linkages and your angles on it and you've all just got to fit around with them to make it as nice as possible really.''
''It's good to be out, spend some time with grand dad. I don't play much other sport so this is something to do and it's a challenge.''
Tim Boag has been ploughing now for two years and has not looked back after injury forced him to stop playing squash.
''I just enjoy the sport and seeing the dirt turning over and it's good. Good people and good crowd.''
''I just love it. I don't even know what I like about it. I just like driving tractors,'' he said.
Tim started competition ploughing in the farm class last year using a six furrow Dunhill plough after being encouraged by his boss, Simon Reed, of Hitcham Farming.
Tim grew up on a farm at Rakaia and has stayed working in the agricultural industry.
''(Simon) had a tractor there for me and a six furrow plough so I jumped on that and had a go,'' Tim said.
''Sure enough I thought it was all right, so I thought I would give the two furrow plough a go this year and see how that went.''
He's driving an International 454, owned by Ken Readman.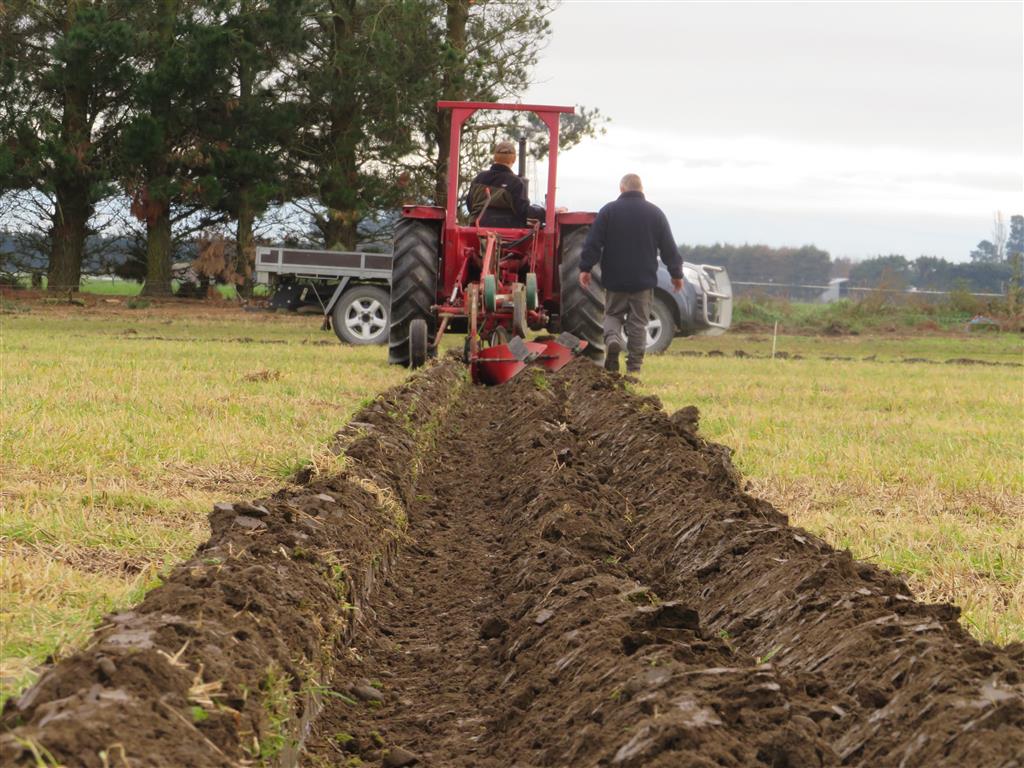 It's more hands on work than the six furrows.
''There is a bit more adjusting to do on the twos. And even though it's only a small plough there are still some things that can go. Everything has got to be just within millimetres, it's got to be spot on.''
Tim's father, David, also ploughed in the farm class. Now David, along with Simon, and fellow plougher Alan Begg, have been helping Tim to fine-tune his plough skills.
''Dad used to plough, back in the day when he was a bit younger than what he is now.''
''He was actually in the farm class he never used any of the two furrow ploughs.''
It was a great sport to get into, Tim said, and he encouraged anyone interested to give it a go.
''Find a tractor, find a plough and come to top matches like this,'' he said.
The Rakaia ploughing match is this Sunday at Dromore Hatfield Road. It is the last of the Ashburton District competition events. Start time is 10.30am.